A permanent project Creating Rights undertakes is to display a virtual and temporary exhibition of art works by socially engaged artists on its website. We envision Creating Rights' platform to offer visibility to emerging artists from everywhere in the world for whom art became a necessity or a means to express visions of human rights.
You can see here Bruce Clarke's artwoks, displayed as the first artist on the Creating Rights' Virtual Gallery.
Today, Creating Rights would like to introduce you to five artists that are part of Meet the Syrians, a project led by AnnaMarie Arts Stichting, and supported by Creating Rights as it will be travelling in 2018 to The Hague, the city of international peace and justice. More on this specific project can be seen here.
Today, you can discover the work and the vision of five of these Syrian artists: Dima Nashawi, Farah Presley, Hiba Al-Fardous Al-Azem, Falak al Ghazzi, and Wajdi Saleh. Two of Dima Nashawi's artworks are visible on the home page of Creating Rights.
We thank all of them greatly for their collaboration with Creating Rights.
Dima Nashawi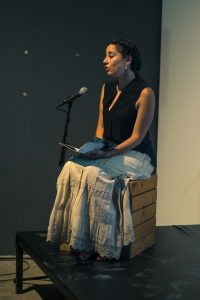 "I am an illustratrator, clown and founder of the Memory Initiative of Syrian Culture project (MISC).
Through my illustrations I tend to reflect my personal life experiences and my interactions with human rights issues around the world. I feel a strong sense of responsibility to deliver, through art, a message to the world: Syria is as a country of artists, a home for peaceful activists eager to live and create civil projects for a better future. My main concern is to advocate for the brutally arrested detainees who are denied fair trials and are held in harsh conditions.
MISC project was initiated during my Masters studies of Arts and Cultural Management at King's College University of London, UK. The project continued supported by AFAQ fund granted in 2017. It is an attempt to help Syrians to transmit the memory of the conflict and, by doing so, to reclaim their own agency. It is a project based on researches that support the thesis that preserving these memories could be a possible fertile resource for the creation of a common ground for the future Syrian identity, overcoming divisions and promoting inclusion. The tool chosen for the preservation includes visual narratives.
My recent participation in collective exhibitions was in 'Textural Threads' exhibition in London within "AWAN" festival. "AWAN" festival is an annual event that celebrates Arab female artists, by offering them the platform to increase the visibility of their artwork and also by exposing their talent to newer audiences.
I also participated in several collective exhibitions in Syria ; and organized two exhibitions to advocate for social causes in Damascus. The first was in 2010 to support refugee children under the umbrella of the Office of the United Nations High Commissioner for Refugees. The second was in 2011 to support children with cancer through Basma, a Syrian nonprofit organization. Both exhibitions were inspired by children texts and stories.
Finally, I am a clown member in Clown Me In, a theatre company founded by Sabine Choucair from Lebanon and Gabriela Munoz from Mexico. Through interactive workshops and performances, the company uses clowning to spread laughter and provide relief to disadvantaged communities while exploring human vulnerabilities and providing individuals a way to accept them. Clown Me In has worked in communities around the world, including in Mexico, Lebanon, India, Brazil, Morocco, Jordan, Syria, Greece and the United Kingdom, as well as with Palestinian refugees.
You can see my portfolio online on Behance, Facebook, and Instagram."
Dima's page on the
Meet the Syrians
' project website is visible
here
.
Illustrations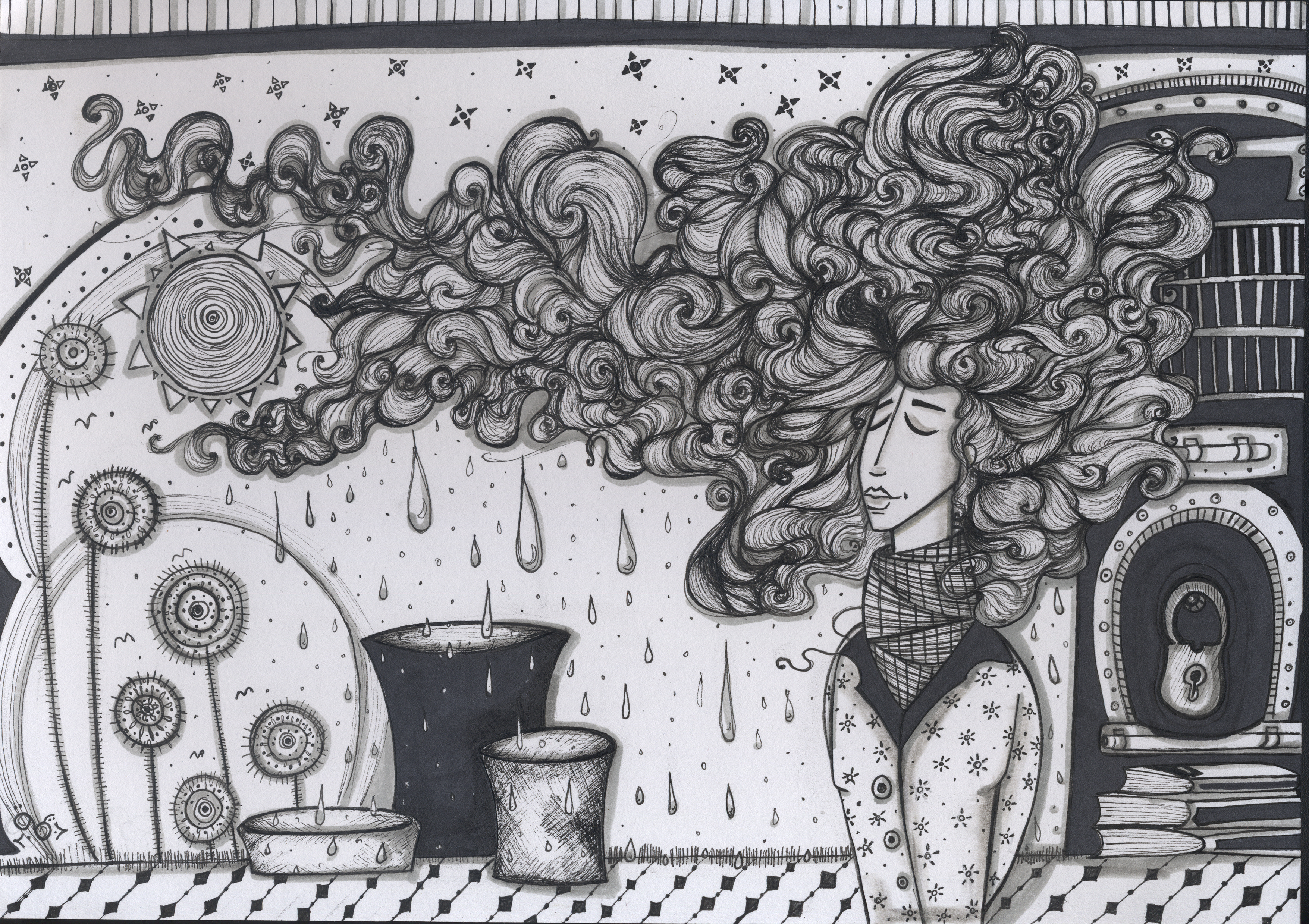 "Maryam is a former detainee by 

the

 Syrian regime. I drew this illustration to represent her testimony through my work with "Al Nabad" media outlet, working together in documenting detainees' testimonies as part of 

the

 Syrian collective memory. 
While listening to her audio testimony, telling about her detention experience, subconsciously, I drew a sketch of a woman with peaceful smile. Her hair was like a rainy cloud, raining above 

the

 prison's ugly elements and growing flowers instead and allowing 

the

 sun to shine. 
I knew Maryam a little at 

the

 begining of 

the

 revolution through her brother who is a dear friend. She was detained due to her civil activism against 

the

 regime in 2014, asking for freedom, social and political reformation. She went through a very harsh experience. She was tortured and sexually abused by 

the

 investigator. However, every couple of minutes through her horrible statement, Maryam tends to highlight a human detail that happened with her in 

the

prison for example her relationship with her colleagues. She would be very appreciated to those little glimpse of moments as a way to survive detention, and lead her life."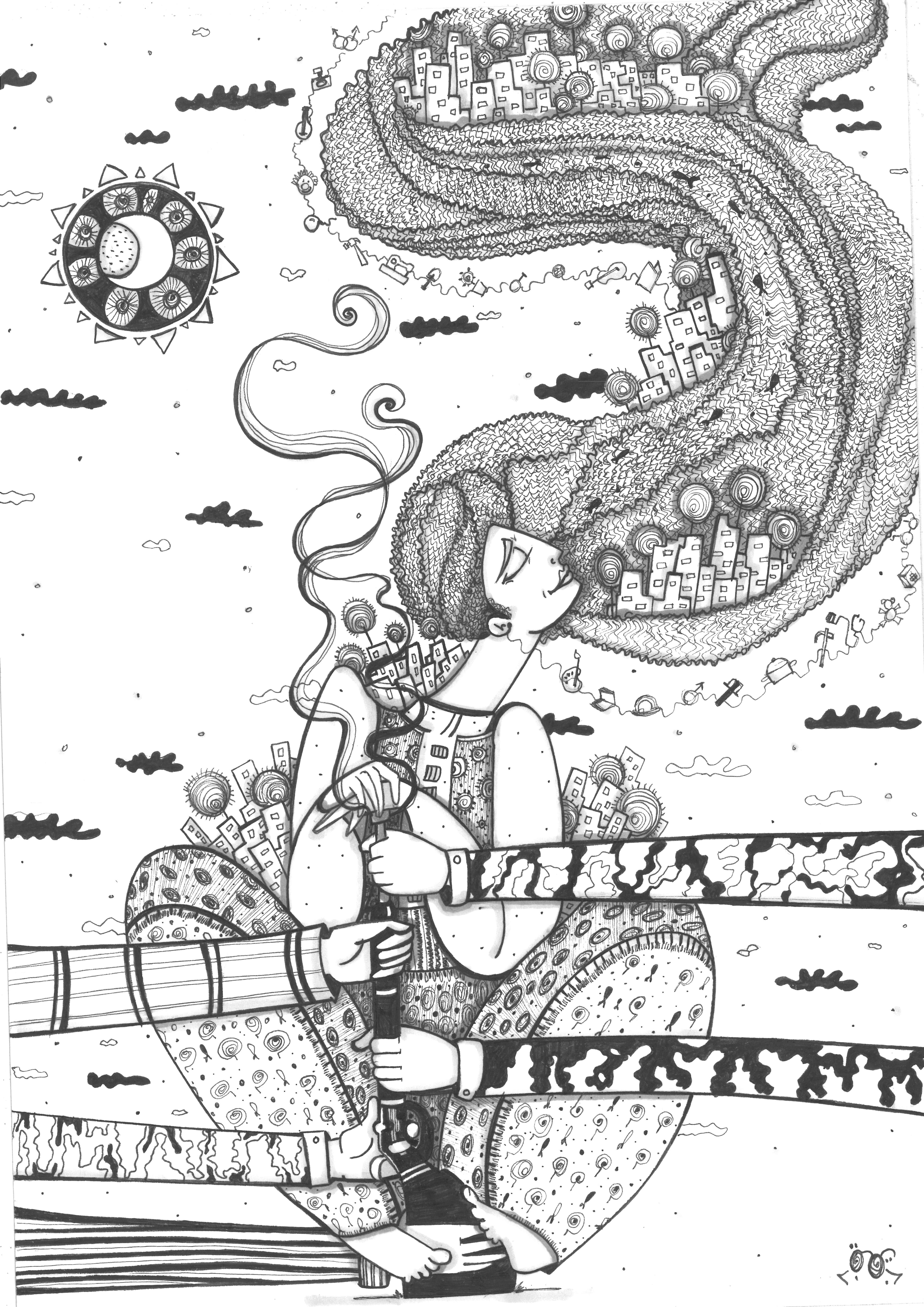 "This artworks is envisioned to support 

the

 civil society in Syria in particular, and in every country more generally. 

The

 civil society that challenges death and arms by spreading and supporting arts, knowledge, music, sports … etc. 
This illustration is a stand of appreciation for their efforts in Syria in very difficult times of conflict. For they maintained their civil work despite all 

the

 atrocities and oppression by different actors including 

the

 regime and 

the

 extremist militias, and living in a constant shelling by 

the 

regime and its allies.  
I contributed with this piece of art in Arts 

the

 Arms fair campaign. 

The

 art campaign was to draw attention to 

the

 world's largest arms fair taking place in London Sept 12, 2017 by initiating online campaign and big art exhibition at 

the

 same time."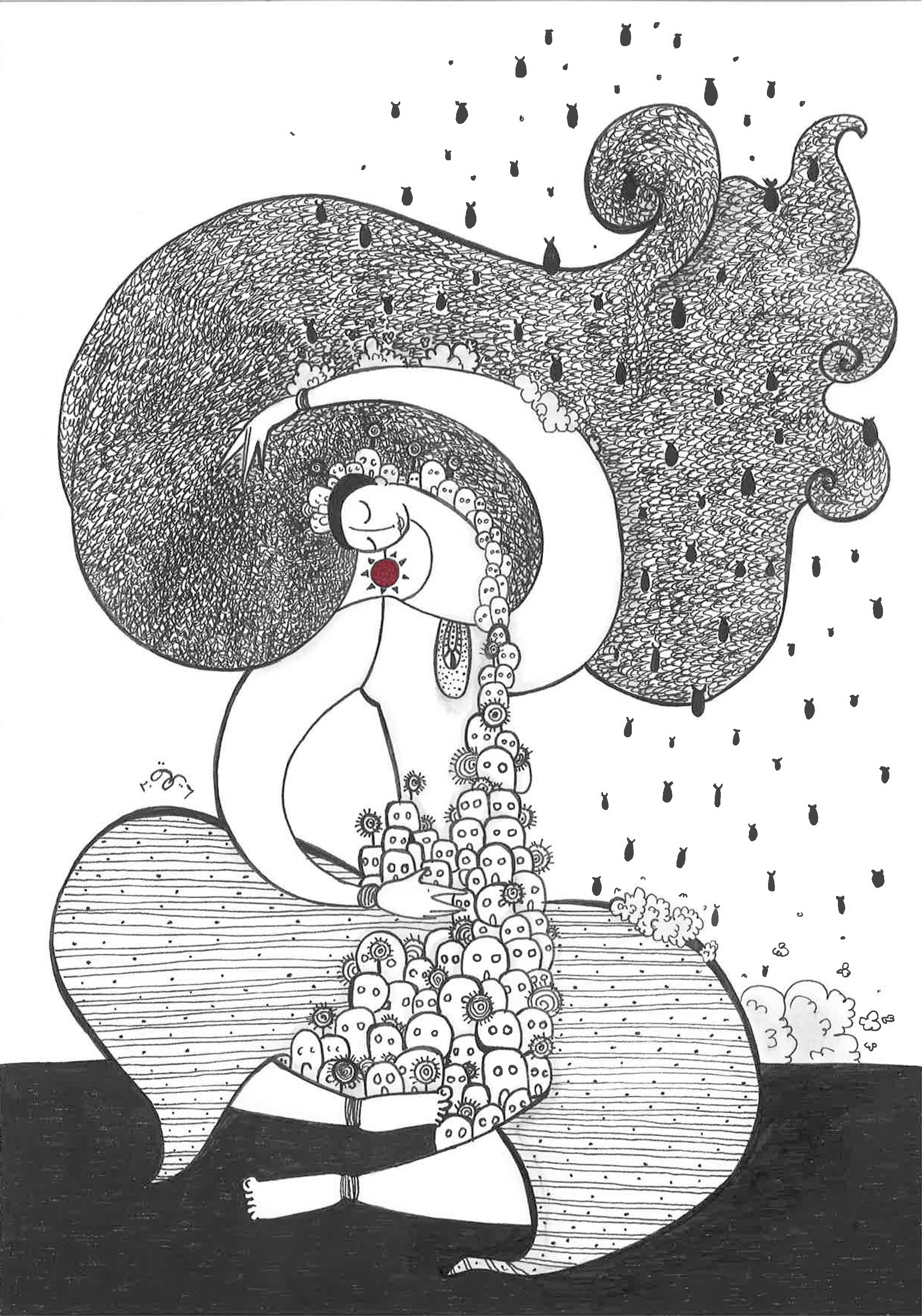 "This is an art work within 

the

 campaign of #SaveAleppo. Wishing to have 

the

 power to stop 

the 

shelling from falling on 

the

 city and destroying it. 
"I wish I could" is my wish to protect 

the

 city, its residences. However, I could not, but I will continue with my art to resist and stand against perpetrators."  
"

The

 Secret of 

The

 Raindrops"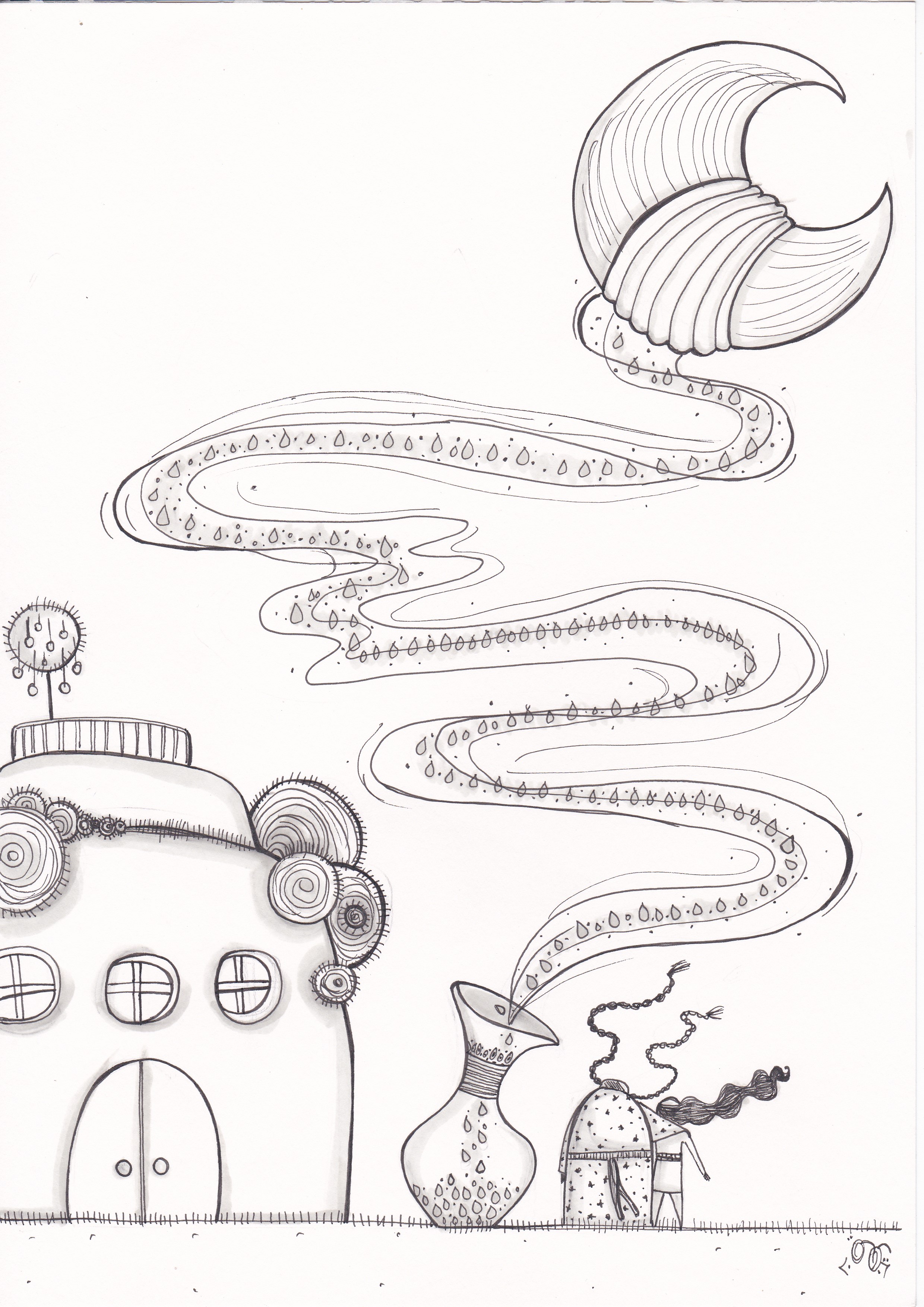 "I composed and illustrated 
the
story following
the
detention of a close friend, Lana, by
the
Syrian regime in 2015. 
The
story uses symbolic elements to highlight
the
issue of arbitrary detention against civil activists by different actors, and
the
Syrian society's engagement and struggle for
the
release of prisoners of consciousness.
In the story, Lana is the main character that goes through a journey to reveal the destiny of her mother who disappears suddenly in the woods. Leaving no trace behind but her name in a raindrop hanging on a branch. A passing by deer hold it in the eyes and vanishes. Lana eventually discovers the secret of the imprisoned names and help her mother and others suffer from the same fate to be free. 
In this illustration, the witch and Lana manage to free the raindrops that ascended by the rainbow shell to the sky. The sky started to rain when the raindrops reached the moon, and the rain turned into human beings before falling on the ground and be free again from their prisons. 
This story is an attempt to remind of the prisoners of consciousness in Syria, to put together all efforts to free them. Moreover, it is a call to change the law in Syria that is used to persecute the prisoners of consciousness and put their lives in extreme danger. Many of them died in torture and for many, their fates are unknown, so it is essential to save the lives of those remaining."
Farah Presley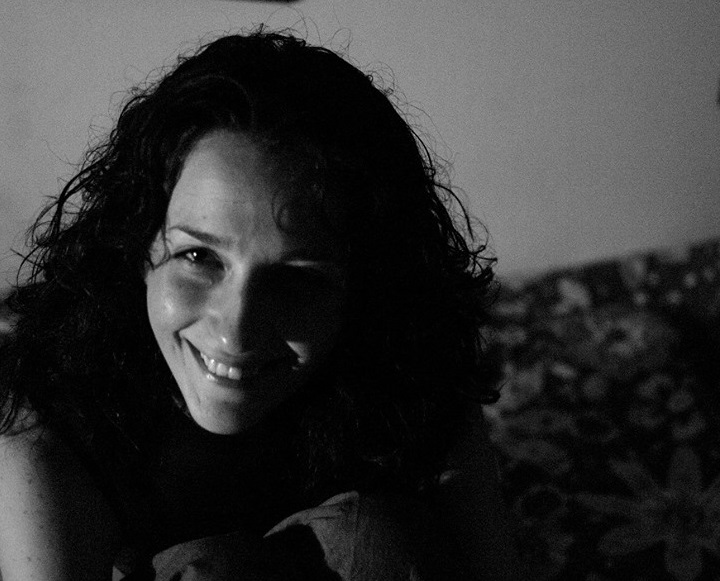 Farah Presley is a painter and a children's books writer. She has been painting for almost three years, made two short films with her group (
Maajooneh
) composed of two artists, in 2015 and 2016. She made a first children's book (Peace Flower), which is not published yet. Farah lives in Istanbul, Turkey.
Farah's page on 
Meet the Syrians
' project webiste is visible 
here
.
Short films
Fade to Black
(visible also
here
)
Yaman
(visible also
here
)
Illustrations
"Finally we are one #1"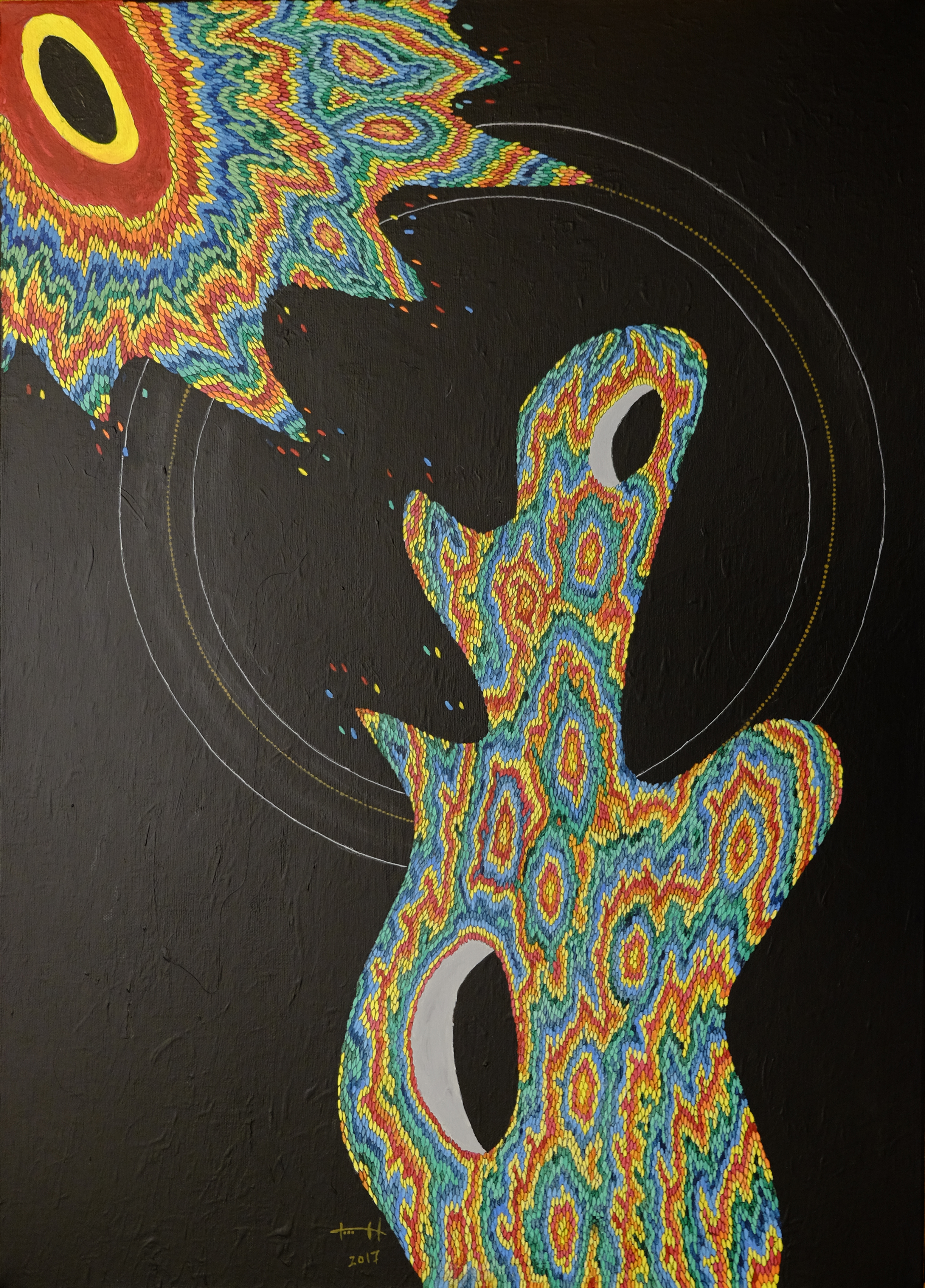 "Finally we are one #2"
"Meeting Place"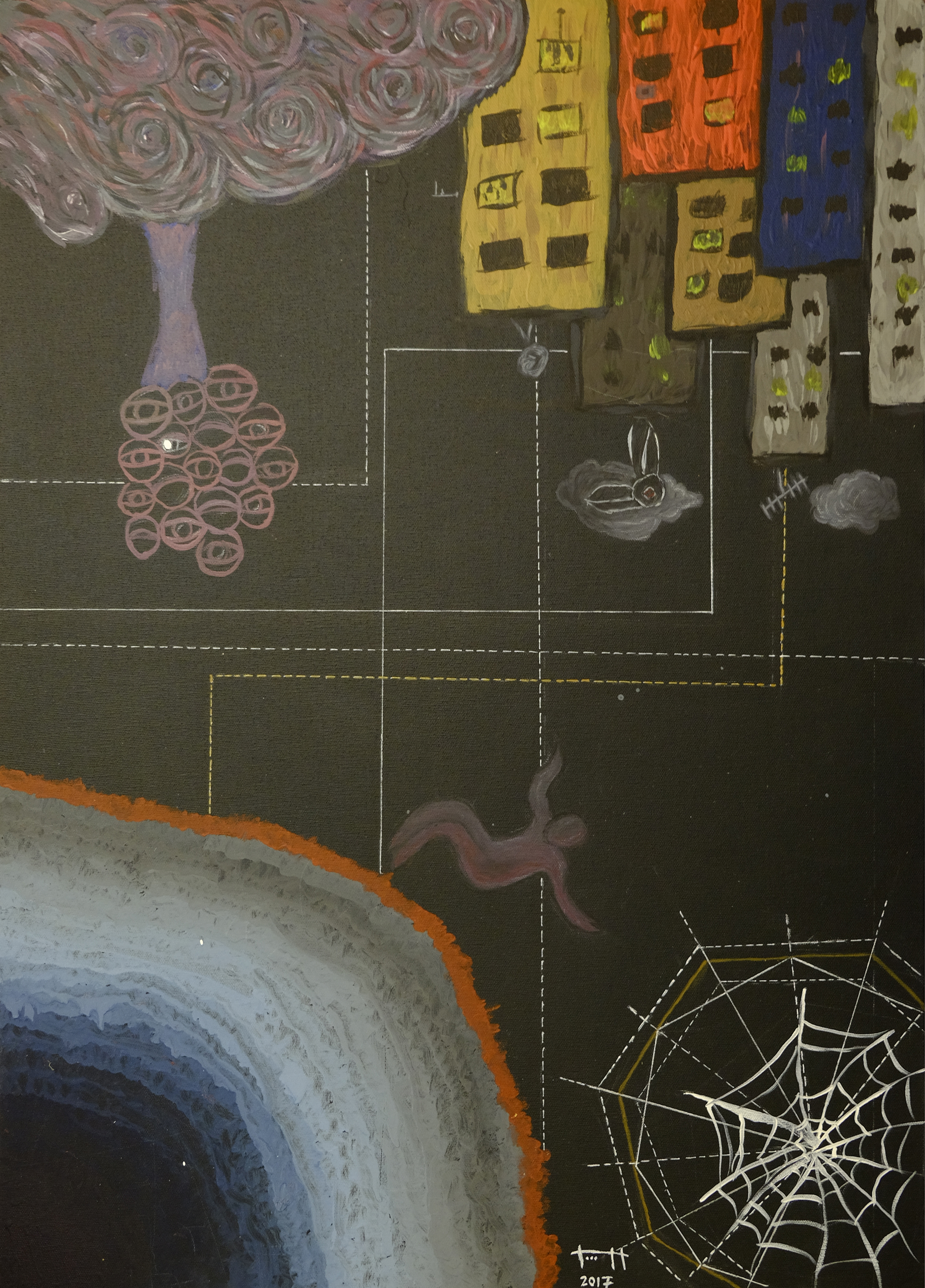 Hiba Al-Fardous Al-Azem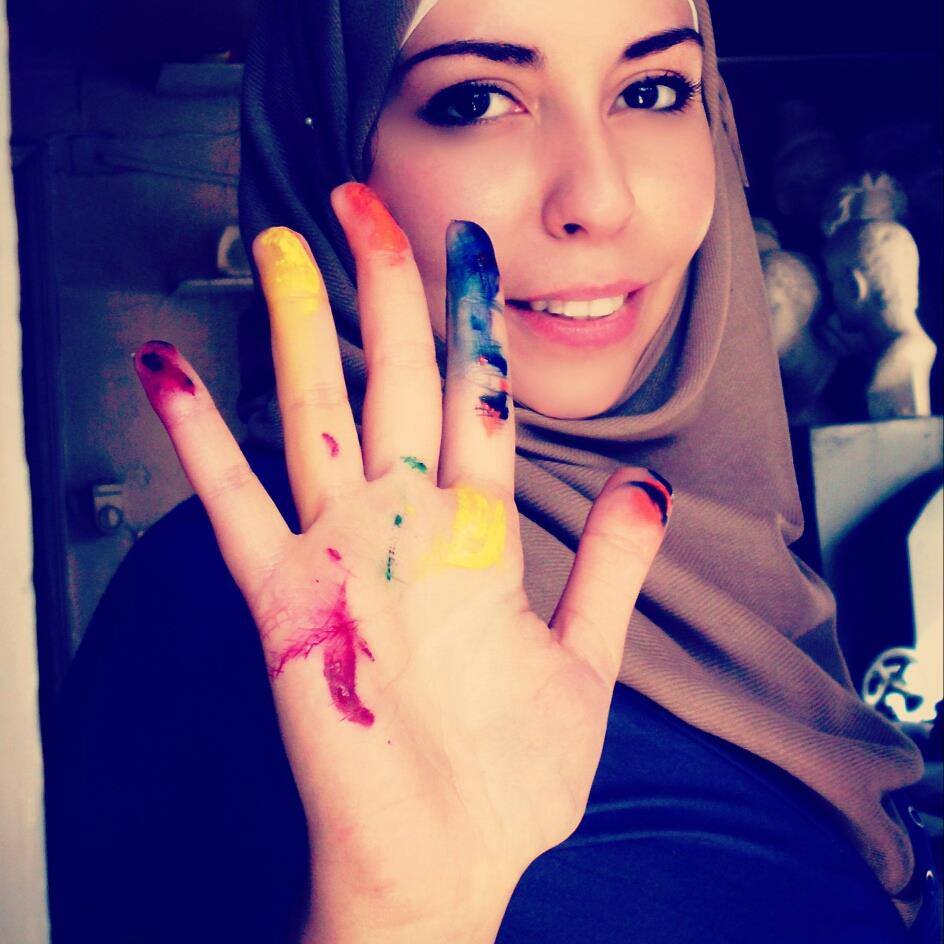 "My name is Hiba Alazm and I am from Syria but live at the moment in Germany. I studied Painting and my speciality was "Water Colors" because of its beauty and I feel that the water colors can express my feelings. I contributed to many collective exhibitions in Syria. The last one in 2014 was called "Syria in young eyes". My last exhibition took place in Holland as part of the Meet the Syrians project."
Illustrations
"I've chosen these paintings, painted for most of them in Syria in time of war, because they express the pain and the suffering that the oppressed Syrians are facing. Sometimes colors can express more than words in terms of Pain and Unfairness. Also Black and White express opposite sides: Peace and War, Hope and Pain, Brightness and Darkness.
I hope the oppression will vanish all around the world soon, and that all children can have a better life than the one we had and live in peace and justice."
Heba's page on
Meet the Syrians
' project website is visible
here
.
"Asylum's journey"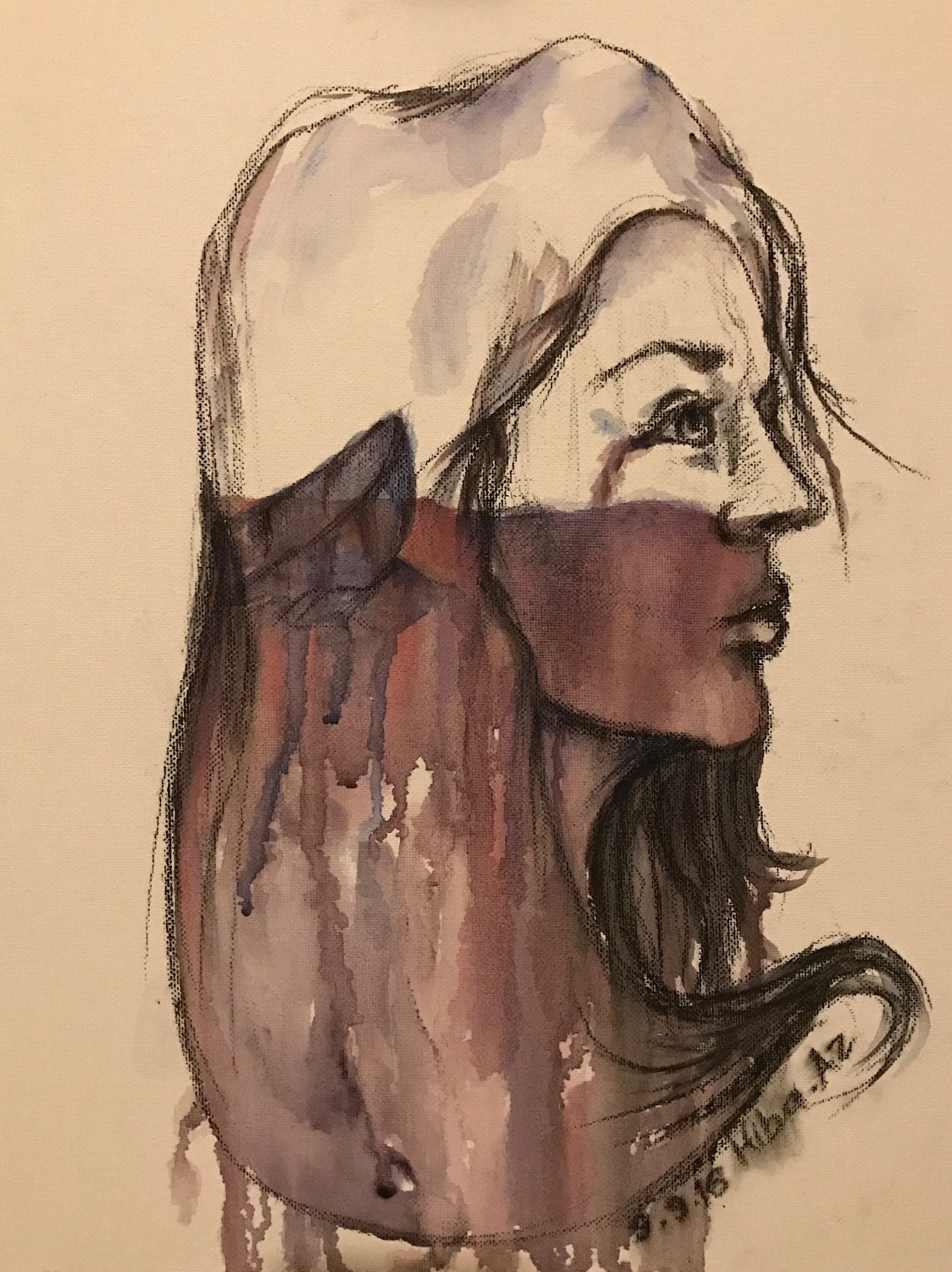 "Injustice"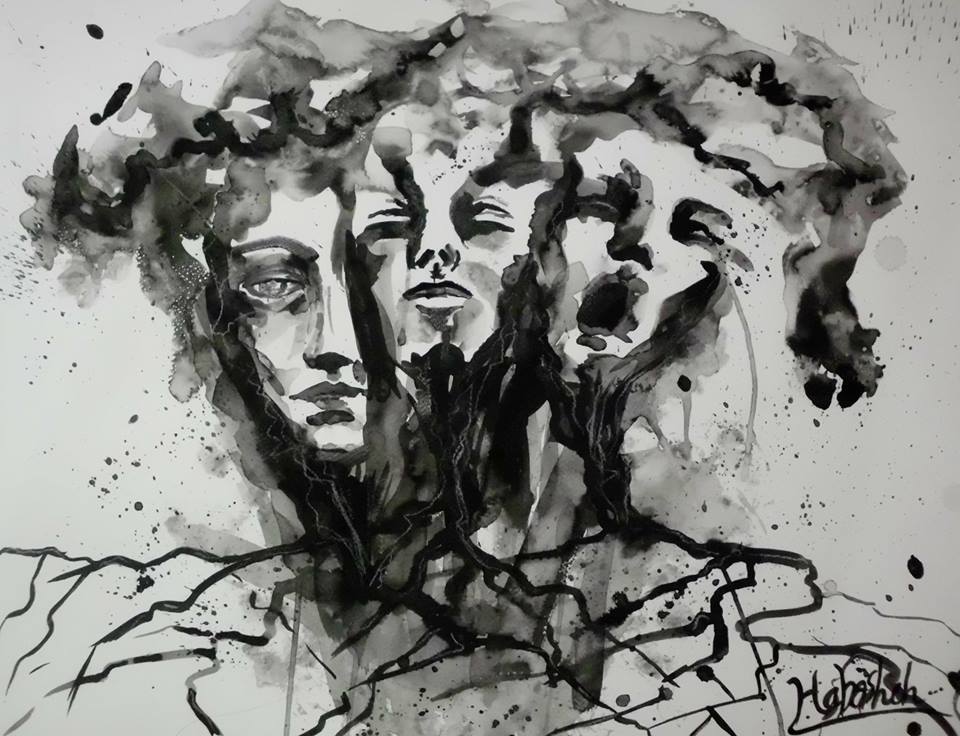 "Pain"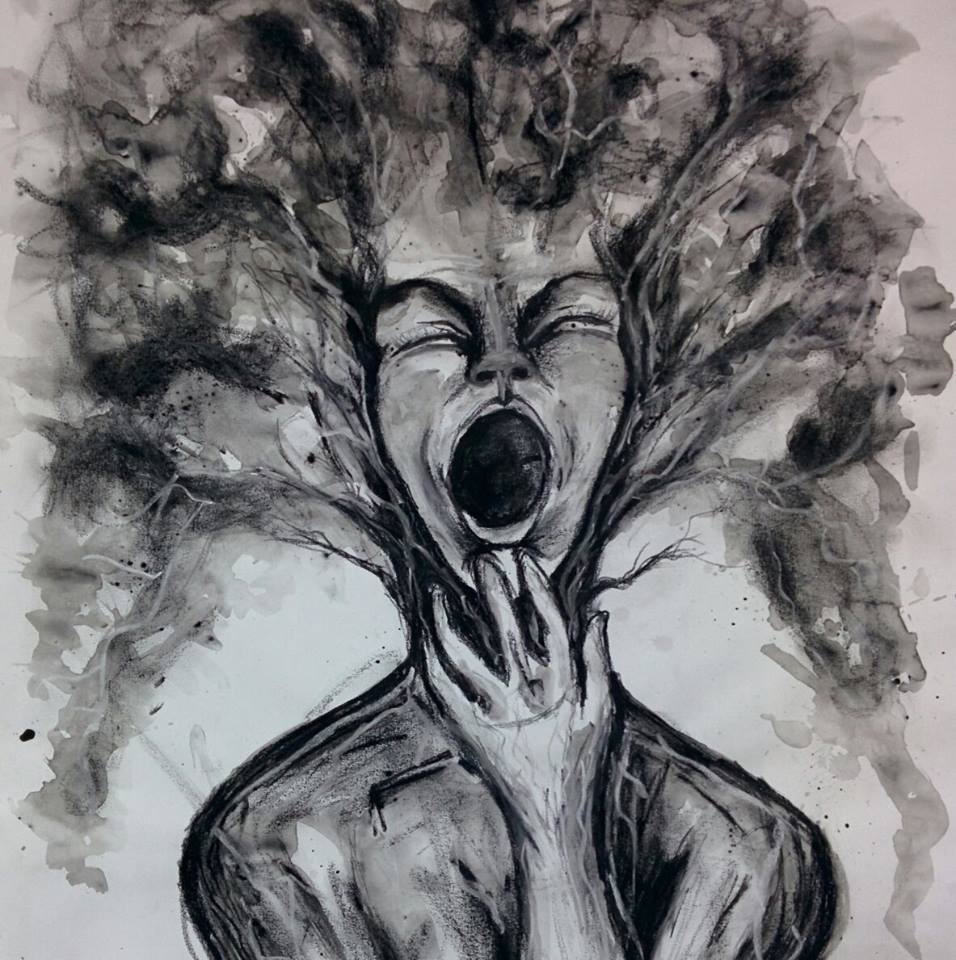 "Price of freedom"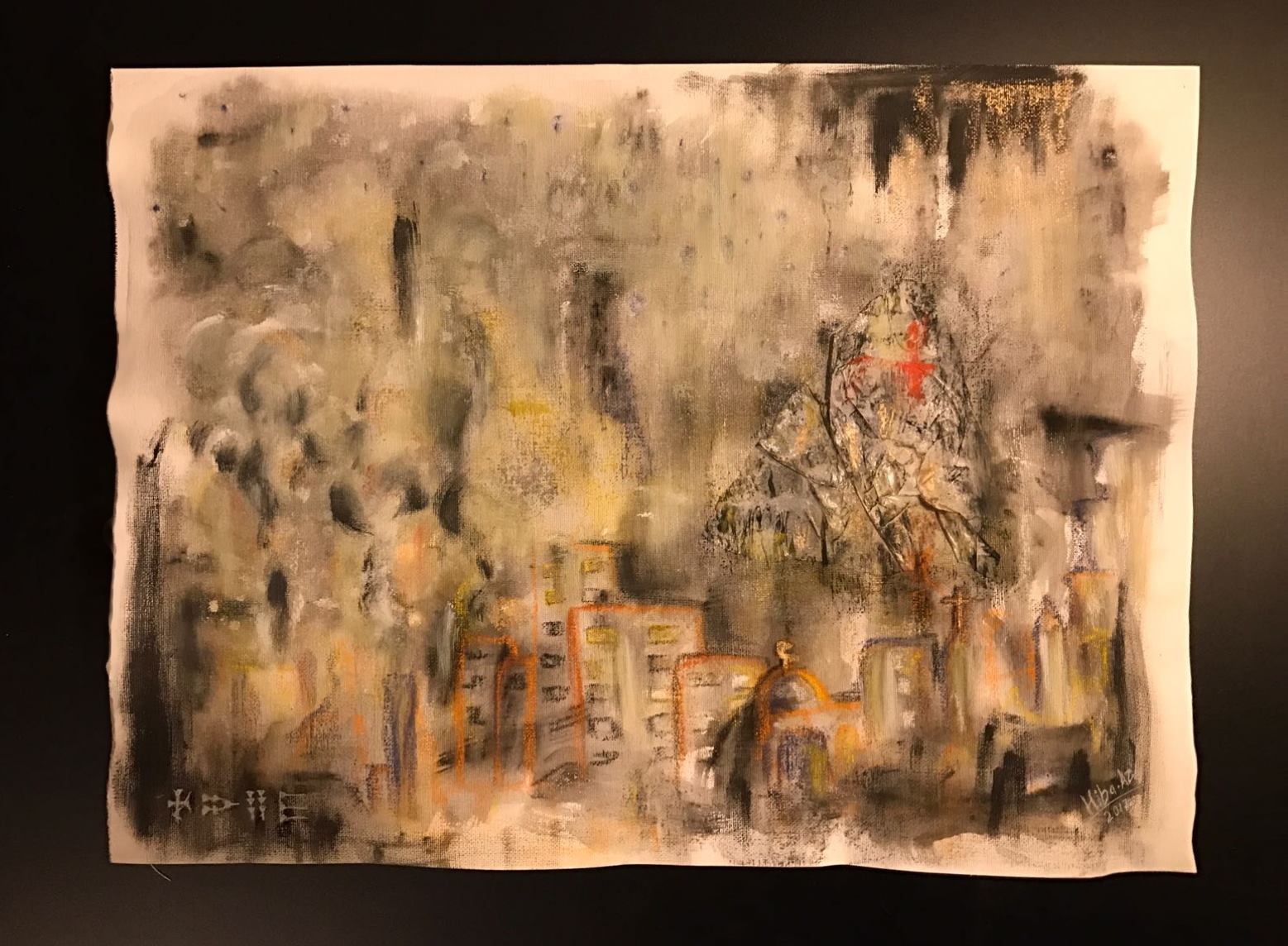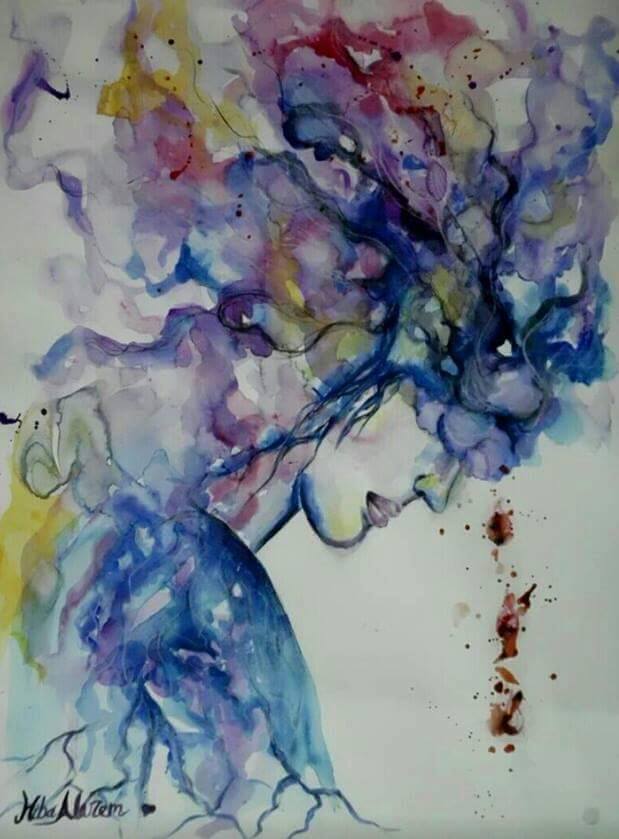 Falak al-Ghazzi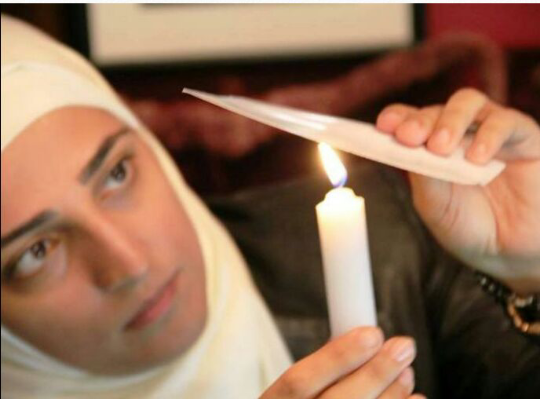 "I am Falak al ghazzi from Damascus, Syria. I do different kinds of art and handcraft. but lately I do fire painting and I drill on eggshell. Through the use of flame in the drawing I wanted to send a message to the whole world of what is happening in Syria of killing people and children."
Illustrations
"The Scream"
"The Scream is about a young man and his family trying to cross the border to get to safety, but the police took hold of him and prevented him from completing his way. He shouted this way and I felt that he was screaming with a burning voice that expressed the suffering of all the Syrians."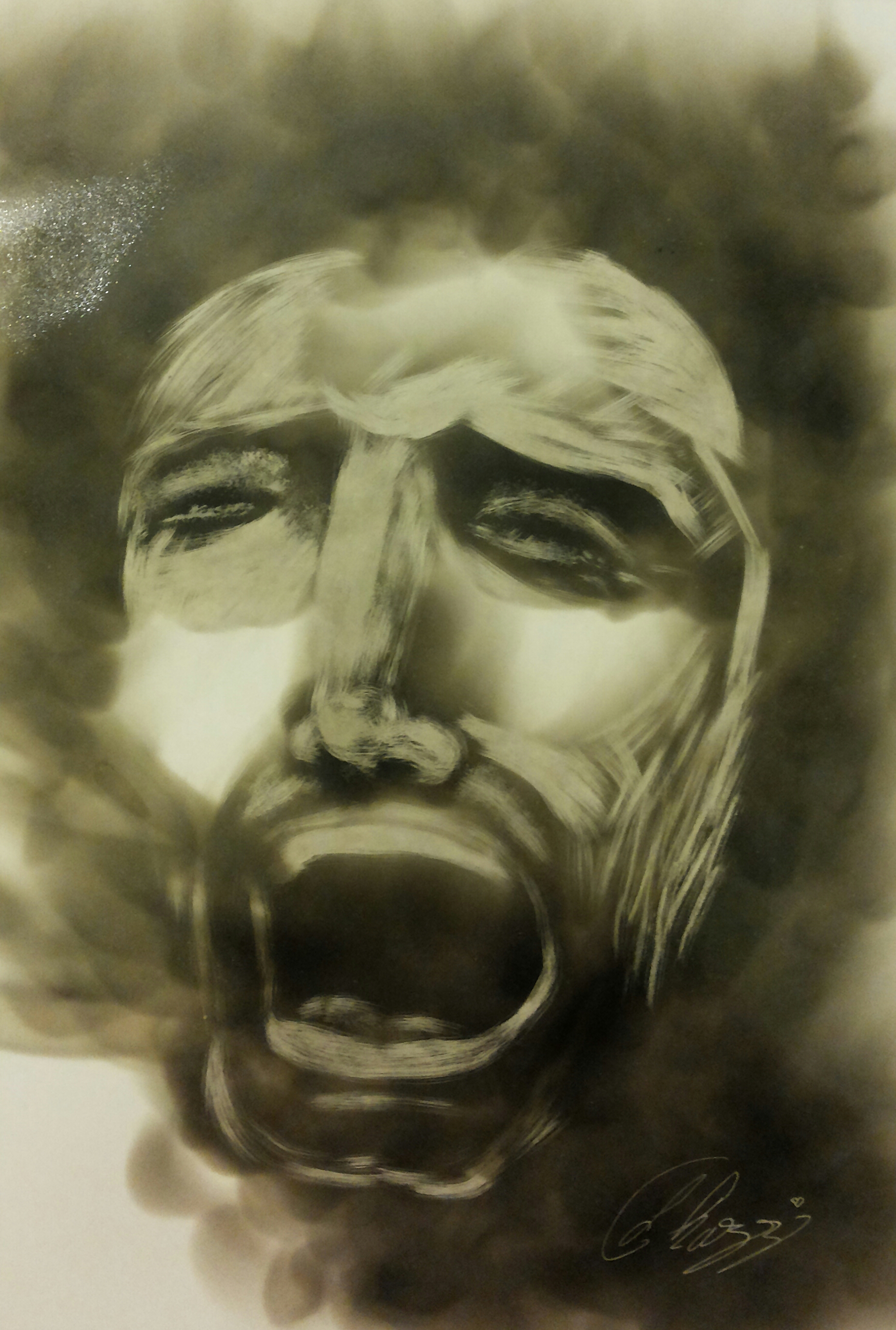 "The face of a syrian girl"
"The blood is covering her face, but in her eyes there are insistence and challenge."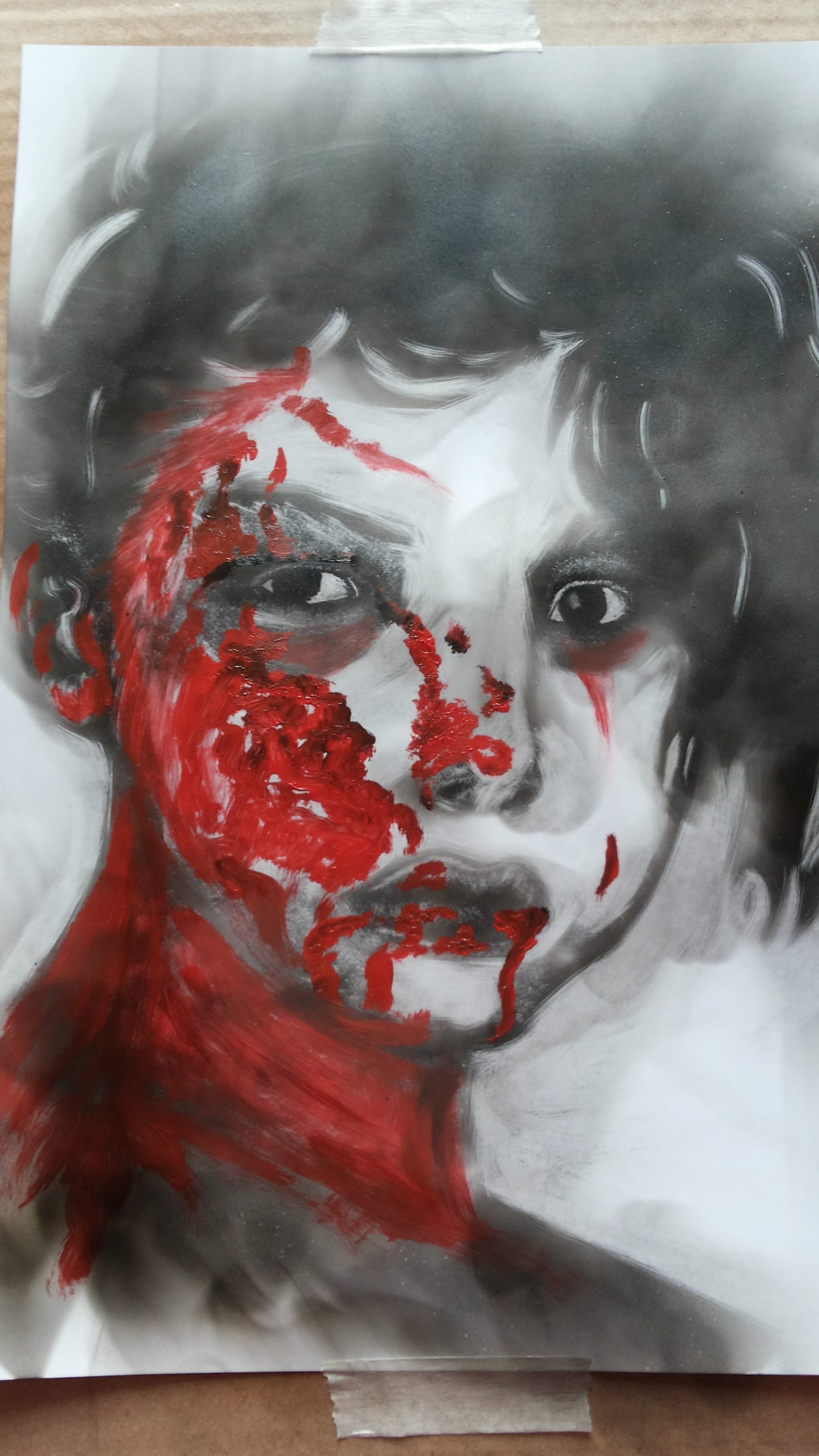 "The old man"
" This is a picture showing an old man after his house was demolished, it filled his face with dust and he lost everything he had. The look in his eyes reflects how deep is grief is."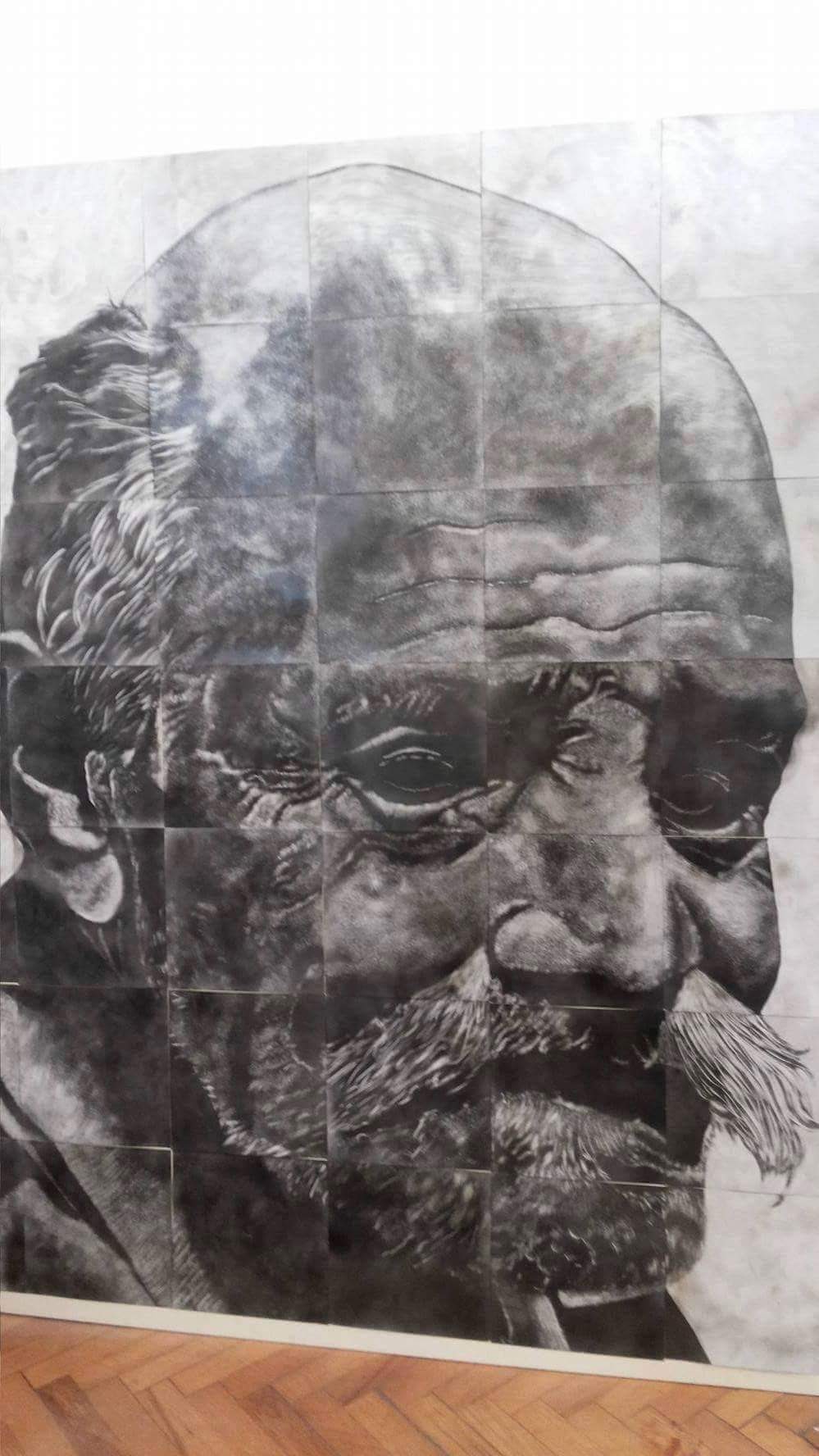 Wajdi Saleh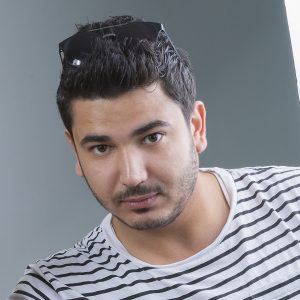 Wajdi Saleh is a Syrian artist living and working in Istanbul, Turkey who, using his art, has taken it upon himself to document and disclose the suffering of the Syrian people concerning the genocide done by Assad and his allies. Wajdi has participated in many activities and exhibitions like the Meet the Syrians's exhibition, which was held in the Netherlands in April 2017. He also earned the medallion of the first place for graphic design in Behance international competition.
In "Blueprints of war: Syrian artists paint the struggle", CNN delivered one of Wajdi's messages seeable in a piece of artwork speaking about the genocide that took place in the city of Duma in August 2015. His artwork, "Waiting", is part of the "15 Works of Art That Will Change the Way You Look at The Syrian Conflict", published by Buzzfeed. His artwork is also the subject of the article "Conceptual Art in The Syrian Uprising"  published on Syrianuntold. More of his work can be found on the website of Creative Memory of the Syrian Revolution, as well as on the Brezilian website Abduzeedo, here and here.
Wajdi is now is preparing for his exhibition which will take place in Istanbul, Turkey in the few coming months. His artwork is shared on Facebook and Behance.
Wajdi's page on the Meet the Syrians' project website is visible here.
Illustrations
"Wish of Eid"
"Wish of Eid is the work that I love the most because in my opinion it is the one that best describes the Syrian Revolution. I have posted it in the year 2014 in the period of Eid which is one of two celebrated holidays by Muslims around the world and most of the Syrians.
My wish for Eid was:
"For Eid, I do not want a tank, I do not want a bullet, I do not want your weapons nor your army nor your protection.
I want to fly from here to there, I want to visit that place and buy toys like kids do… For Eid, I want to be happy… for one day… at least, so grab your belongings… and leave"
"Water Bomb"
"It unmasks yet another type of crimes that were committed by the regime in Syria by putting an area under fierce siege and cutting out all sources of life, including water. Using this strategy the regime succeeded in killing many innocents, but with the documentation of this crime through "Water Bomb" and other works done by other artists and activists, the awareness was raised and the siege was lifted with the help of international pressure."
#Save_Syrian_Children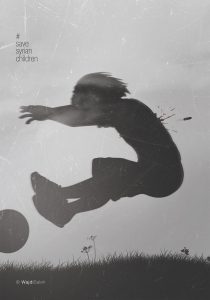 "#Save_Syrian_Children is the hashtag that Syrian activists started, and I used it as a name for one of my works in which I show a less-than 10 year old boy being shot on the grass of the play ground by an Assad's sniper. The boy died and with his death, the humanity of many people died as well."
"Peace Rifle"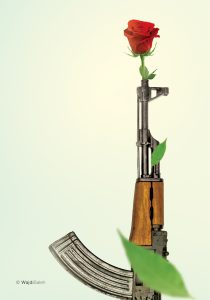 "It is the call and wish of 23 millions Syrians (Population of Syria before the Revolution). Everybody asked the international community to stop the usage of weapons so that everybody will live a normal free life in which no weapons were used and the repressive regime of Assad did not exist."
"Human Dignity"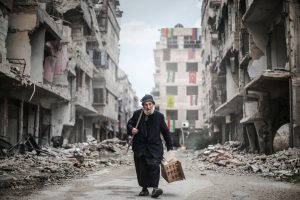 "Published for the first time on Creating Rights. It is a pure humanitarian work. It shows how an old man left all the flags of the many different countries and parties that are involved in the Syrian Revolution behind him saying "Alone with dignity rather than alive with humiliation" and walked away from his devastated land so he would finish whatever is left of his lifetime and die with dignity despite everybody."
https://creatingrights.com/wp-content/uploads/2017/10/testmony-2-Maryam.jpg
2478
3510
Creating Rights
https://creatingrights.com/wp-content/uploads/2023/03/Fichier-4-300x129.png
Creating Rights
2018-09-16 23:10:23
2018-09-16 23:21:09
The Virtual Gallery