"I dance to be free, to be strong, to look for a perfect world"
Dance or Die is a story of exile and survival. It is the story of Ahmad Joudeh, a Palestinian –born Syrian dancer who grew up in the Yarmouk camp in Damascus and who defied the odds of war and repression as well as a hostile father to train as a dancer. Having been sponsored by the Dutch National Ballet to train and perform in Amsterdam, Ahmad is quickly becoming a household name in the world of ballet and on social media.
The tatoo inked in Sanskrit in the nape of his neck–"Dance or Die"–takes centre stage throughout the documentary. Film director Roozbeh Kaboly shot a lot of the scenes from the back with the tatoo in full view in the foreground as a reminder that for Joudeh, dance equals life and that a life without dance is not worth living. Joudeh explains that his tatoo was an act of defiance to ISIS rule back in Syria and to ISIS' favored mode of execution; beheading. Under ISIS rule, ballet was equated to homosexuality, which put Joudeh's life at risk.
The documentary contains a number of powerful artistic moments, from Joudeh dancing in the rubbles of the Yarmouk camp near Damascus and the ruins of Palmyra before his departure to The Netherlands to the Esplanade du Trocadero in Paris to a duo on Italian TV with Roberto Bolle–one of the world's most acclaimed ballet dancers–danced to the live performance of Sting's Inshallah, another story of exile.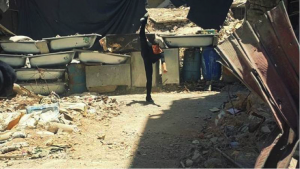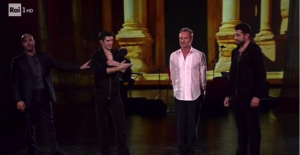 One can only be drawn to Joudeh's inate sense of movement and artistry and the total passion he puts into his dancing.
On a more personal level, the documentary portrays Joudeh as a dedicated, fun and hard working young man but also as an individual struggling with the traumas of war and exile and having a father who never supported his son's passion. At times, the melancholy in Joudeh's eyes takes over the light that shines through when he dances.
Joudeh's reunion with his father at a German refugee center is an intimate moment shared before the camera. It marks a moment of anticipation and hope, which comes back later in the film when Joudeh's father watches him perform, probably for the first time, and one can see the sheer pride in a father's teary eyes as well as regret for the years lost.
Joudeh is a gifted dancer and a wonderufl advocate of peace through art. He will undoubtedly go on to touch many audiences throughout the world. I hope he also finds his peace.
For those reading the blog in The Hague, Ahmad Joudeh will be performing on Sunday 15 April at 16h at the Universal Sufi Center for an event entitled "The Music of Life: Dance for Peace".
The documentary "Dance or Die" premiered on 18 March in Amsterdam, The Netherlands, as advertised here on Creating Rights.
https://creatingrights.com/wp-content/uploads/2018/04/Dance-or-die.png
350
941
Creating Rights
https://creatingrights.com/wp-content/uploads/2023/03/Fichier-4-300x129.png
Creating Rights
2018-04-13 09:00:38
2018-04-11 23:39:39
Dance or Die: A Story of Dance over War