December 9 is World Genocide Prevention Day, marking the anniversary of the UN Genocide Convention, which was adopted on this day in 1948 after the horrors of the Holocaust. Today, we remember the victims of genocide and the commitment to prevent future atrocities.
Today we also to bring attention to what the Forgotten Holocaust refers to.
European collective memory remembers The Holocaust as one of the darkest chapters of History. However, one episode was excluded from the history of World War II for decades: the Roma Genocide (Porajmos). Nazi Germany classified Roma people under the same category as Jews: "enemies of the race-based state" who were "racially inferiors". The Nazis murdered an estimated 400,000 Roma. Only a minority survived. In post-war years, Romani continued facing persecution throughout Europe. For example, the Czech Republic and Slovakia sterilized around 90,000 Romani women against their will between the seventies and nineties. In addition, Germany did not pay war reparations to Romani survivors as it did to the Jewish victims. West Germany only recognized the crime as a racist act in 1982. As Open Society Foundations remarks, the lack of official acknowledgement of the genocide is directly linked to the long-standing discrimination against gipsy people in Europe.[1] But racism against Roma is nothing new. They are seen as low-achieving students, criminals, and low-skilled workers living in wagons. Since Romani have no country of their own, the perpetuation of these prejudices only makes harder their struggle to achieve a dignified life in the countries they live in. Most live in Turkey, Romania, Bulgaria, Spain, and Russia.
At Creating Rights, we believe that educating ourselves about Roma history is crucial to raise awareness about silenced past atrocities, dismantle institutional racism, and create a safer future for Roma people in and outside of Europe. It is not acceptable that the biggest ethnic minority within the European Union keeps living on the margins of society.
Artistic expression is one of the ways through which Roma combats the anti-Romani sentiment and commemorates the Romani victims of the Holocaust. Since the field of Roma's artistic memory is still evolving[2], I would like to bring to the forefront concrete cases of Romani who have drawn on the visual arts, film, and music to disclose emotions about both the traumatic past and the prevailing culture of Anti-Gypsyism.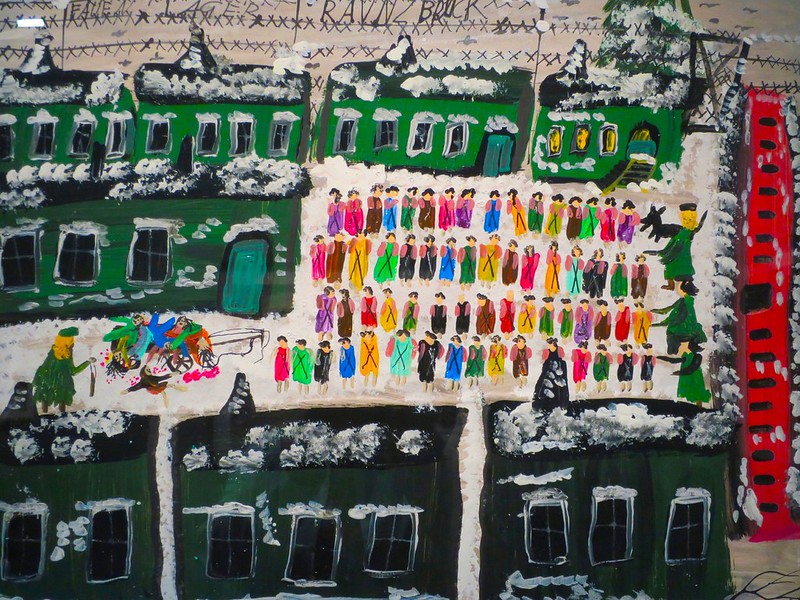 Image: Frauenlager Ravensbrück (Ceija Stojka, 1993)/Flickr
This painting was made by Ceija Stojka, an Austrian-born Romani artist who survived three concentration camps. As a victim of mass atrocity, she depicted the reality she lived in more than 1,000 paintings. Stojka gave a voice to those of her kind who died or were persecuted both during the Nazi and post-war periods. In short, her art became a visual testimony of the Forgotten Holocaust and broke through the silence imposed by the strategic politics of forgetting.
Marika Schmiedt is another Austrian-Roma contemporary filmmaker concerned about unmuting the voices and testimonies of the victims of the Romani Holocaust. Her artistic-political work is relevant because it exemplifies how art can act as a transitional justice tool and "call the witness" of the genocide.[1] In her practice, Schmiedt unveils the long-term effects of the genocide in the lives of younger Roma generations; visible in the film-document Undesirable Society.
Polish-Roma artist Malgorzata Mirga-Tas also aims to break the silence on the Porajmos through art. She designed a wooden sculpture to commemorate the 29 Romani murdered by the Nazis in 1942. It was placed on the same site in the forest where the killing happened. The work was vandalized in 2016 and remade again.
However, most of politically committed Romani artists focus on denouncing the present-day social struggles and negative stereotypes that Roma face. A good example of an artist who uses art as a form of resistance is Albanian Sead Kazanxhiu. Concerned about the unjust treatment of his people, he uses public space to restore the dignity of Roma. 8 per 8 Prillin 2013 installation was placed in front of Albanian Parliament.
Roma aesthetics and visual culture is full of symbols that embody the spiritual and everyday life of their people. This is what fascinates English-born Romani artists Daniel Baker and Delaine Le Ban. Baker attempts to challenge pre-existing assumptions about Roma by re-contextualising the objects made by Roma artisans who do not label themselves as 'artists'. Le Bas embraces her condition as 'the other' to explore the political potential of clothing and textiles.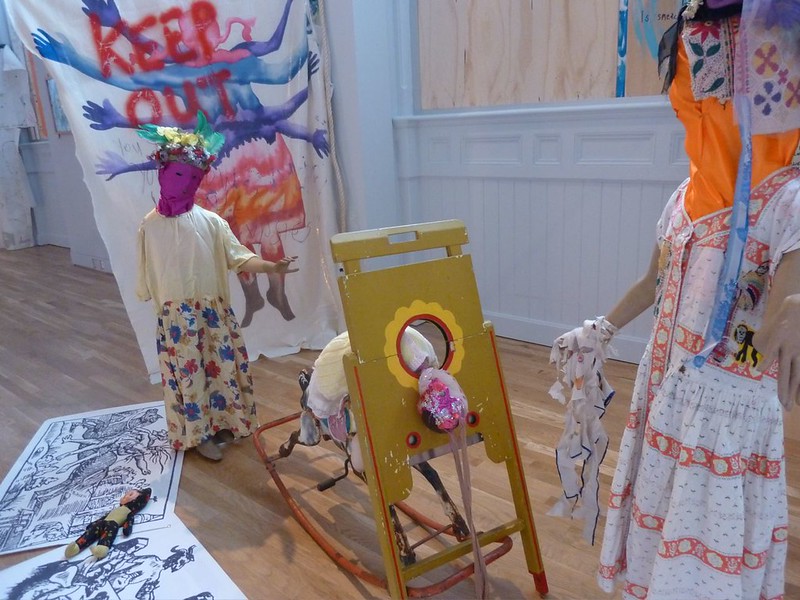 ---
Image: Witch Hunt (Delaine Le Bas)/Flickr
---
On the other hand, some artists with Roma origins do not define themselves as Roma artists. This is the case of Robert Gabris, an experimental Slovak artist who creates safe spaces for marginalised and queer people like himself. Similarly, Bosnian multimedia artist Selma Selman is inspired by her family background. She explores the role of women in Roma communities. In A Pink Room of Her Own, Selman reconstructs the memories of her mother, who got married at age 13, and designs for her the girly room of her childhood's dreams.
Finally, I would like to name two female Spanish-Roma artists who have shown that those with a difficult past marked by their ethnicity can still become internationally renowned artists: Lita Cabellut and María José Llergo. Cabellut grew up on the streets of Barcelona as a Sinti orphan. Now, she is based in The Hague and her large-scale figurative paintings have been exhibited globally. In fact, she is the third most valued Spanish artist. María José Llergo is a 27-years old flamenco singer. She discovered her passion for music when her grandparents sang while they were working on the field. The song Me miras pero no me ves ("You look at me but you don't see me") is a cry of the trauma and invisibility suffered by Spanish "gypsies".
In conclusion, Roma's history of mass violence proves that when transitional justice fails, art has the power to disclose the anger and trauma of marginalised groups and raise awareness about genocide prevention. It is as necessary to learn from past atrocities as it is to get rid of prejudices about vulnerable communities in order to thrive as democracies. Roma people have been living in Europe for 600 years, yet they are still 'the minority of the minorities', living in the outskirts of cities and subject to exclusion and oppression. Their undeniable artistic and cultural record is a valuable tool to fight for change through self-expression and political storytelling about their truth. The artists mentioned here only represent a small number out of all Romani artists who openly embrace their ethnic identity to tell us their truth and reality through sharing their stories in their practice. On a day in which the lives of the victims of genocide are to be honoured and dignified, Creating Rights recognises the political relevance of stories conveyed by ethnic minority artists when the status-quo turns its back to serious societal and political issues.
---
---
[1] Open Society Foundations. "What is the Roma Genocide." Accessed December 5, 2021. https://www.opensocietyfoundations.org/explainers/what-roma-genocide
[2] Maria Alina Asavei, Call the witness": Romani Holocaust related art in Austria and Marika Schmiedt's will to memory," Memory Studies 13.1 (2020): 107-123.
Sources:
Asavei, Maria Alina, 2020. "Call the witness": Romani Holocaust related art in Austria and Marika Schmiedt's will to memory. Memory Studies, 13(1), 107-123.
Connolly, Kate. 2017. "'A place to call our own': Europe's first Roma cultural centre opens in Berlin".The Guardian. Accessed December 6, 2021.https://www.theguardian.com/world/2017/jun/08/roma-artists-launch-art-cultural-centre-institute-berlin
Open Society Foundations. 2019. "What is the Roma Genocide." Accessed December 5, 2021. https://www.opensocietyfoundations.org/explainers/what-roma-genocide
https://creatingrights.com/wp-content/uploads/2021/12/Diseño-sin-título-30.png
602
904
Creating Rights
https://creatingrights.com/wp-content/uploads/2023/03/Fichier-4-300x129.png
Creating Rights
2021-12-09 09:00:00
2021-12-08 23:04:24
Memory of a silenced community: Fighting Anti-Roma Attitudes through Art