by Juliette Remond-Tiedrez
I mainly wanted to go the Institut du monde arabe (IMA – Arab world institute) last Monday to see Amal. Amal, which means hope in Arabic and is a female name, is the 3.5 meter puppet representing the millions of Syrian children having had to flee Syria and migrate to Europe. She started her journey in Gaziantep, a Turkish city bordering Syria, – like so many other Syrian refugees.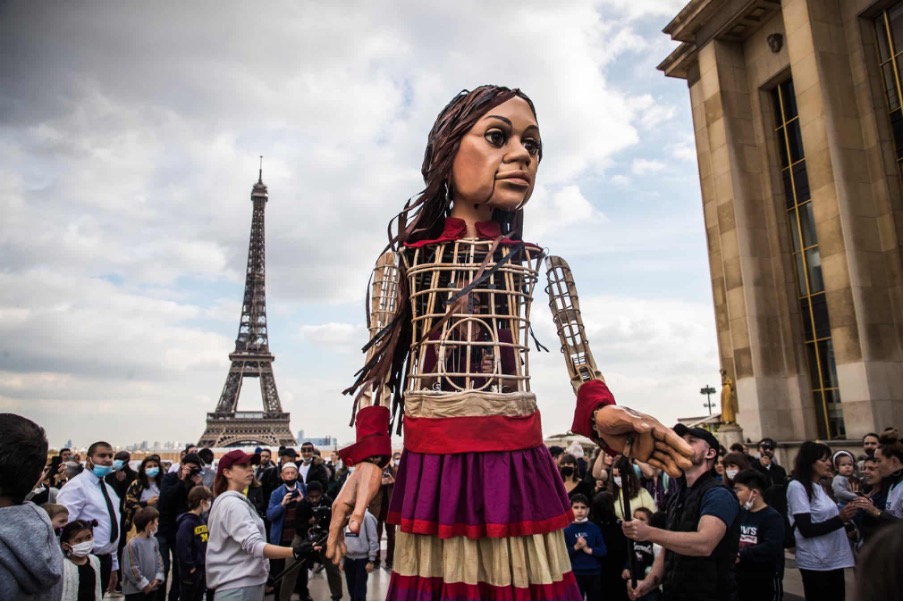 I wanted to combine seeing her with the IMA's Special evening for Syria. Unfortunately when I came to the institute, Amal was already gone – turns out I misread the date of her departure from the IMA. Luckily I still had the Special evening for Syria which turned out to be a lot more emotional that I had expected.
The evening, which was dedicated to "not forgetting Syria", combined speeches and musical performances in remembrance of all women (and men) detained in Syrian prisons.
The evening kicked off with a quick presentation by the two organisers, musician Naïssam Jalal and movie maker Hala Alabdalla. Ms Alabdalla, who didn't want to be blinded by the spotlight while giving her presentation but instead wanted to be able to see the crowd, did her speech away from the light, in the dark. Her will not to put the focus on hersef, but rather on the cause, was also an obvious motivation behind her choice.
Garance Le Caisne gave a strong testimony. She is an independent journalist, and the only person to have met Caesar. Caesar is the code name of a Syrian military photographer who defected and leaked 53,000 photos of people killed by the regime and whom he was asked to photograph. Ms Le Caisne explained that families who discovered their loved ones in the so-called "Caesar files" found a sort of relief in it, because it meant they were finally at peace, that they were not being tortured anymore. At that moment her voice broke as she couldn't continue. The families also felt relief from the fact that if they could recognize their loved ones, it means they were still recognizable despite being tortured…
Because all three testimonies were emotional, in their own different ways (Agnès Levallois discussed the geopolitical situation of Syria while Hana Jaber talked about the exclusion of Syrian children from Turkish, Lebanese and Jordanian school systems), the musical breaks seemed necessary for the public to process them. La Chica's choice of songs about feminism, woman power and American capitalism felt empowering as Sandra Nkaké's focus on love was comforting.
The evening ended with a very powerful concert by Franco-Syrian flute musician Naïssam Jalal (she also hosted the event) who performed, among other songs, Almot Wala Almazala: death rather than humiliation. This slogan used to be chanted by protestors at the begging of the Revolution. However, as we know, ten years on, most Syrians who sang this slogan have known humiliation, death, or both.
https://creatingrights.com/wp-content/uploads/2021/10/Picture-1.jpg
602
904
Creating Rights
https://creatingrights.com/wp-content/uploads/2023/03/Fichier-4-300x129.png
Creating Rights
2021-10-30 12:02:24
2021-10-30 12:04:35
REMEMBRANCE AND HOPE FOR SYRIA