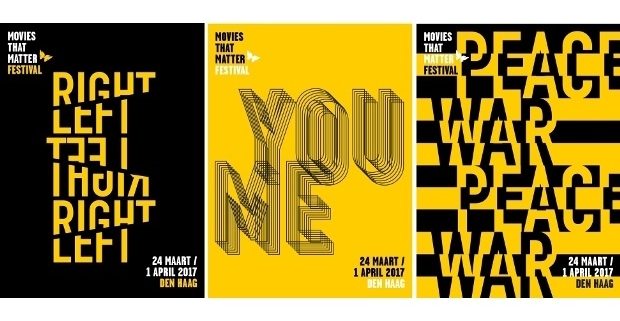 by Sofia Stolk (coordinator Camera Justitia program)
Cyberwar, illegal adoption, the death penalty, solitary confinement, child soldiers, resistance, war crimes, and a final verdict. In this wide variety of topics, one important common theme stands out: a call for justice. From March 24 until April 1, the Movies that Matter Festival once again takes over The Hague. For 9 days, the 'International City of Peace and Justice' will host a plethora of films, debates and exhibitions about human rights and social justice.
Film opens eyes. That is what Movies that Matter believes in. That is why we show films, and talk about them. Let's meet, is the slogan of this year's festival. That is exactly one of the biggest contributions a festival like Movies that Matter has to offer: to create a space to encounter 'the other'. A space where artists can meet politicians, where filmmakers can meet lawyers, where activists can meet academics, where students can meet judges. The Camera Justitia programme specifically focuses on the worldwide fight for justice. Four documentaries, four fiction films, and over thirty experts and filmmakers show and discuss judicial dilemmas and the challenges of (international) legal systems. Camera Justitia reveals the bright and but also the darker sides of law, justice and human rights; it sheds light on the tensions, and asks uncomfortable questions. Because securing human rights is not easy, because law is not straightforward, and because justice can mean different things to different people.
The four Camera Justitia documentaries question the capacity of the law to effectively and humanely deal with personal traumas as well as global threats. They dig where one is not allowed to dig, they ask the painful questions, they show how big dilemmas and societal changes are more than grand theories or political slogans, but affect the lives of actual people.
Can you secure your identity through a trial? Algo Mio – Argentia's Stolen Children shows two different perspectives on the legal and psychological dimensions of illegal adoption. Can you hold prisoners in solitary confinement for 23 hours a day, indefinitely? Solitary offers a disturbing look inside a US maximum security prison. Do we really know what threatens us? Zero Days unravels the highly secretive and intrusive cyber operations that increasingly dominate the world's international relations. What does 'civilian life' mean when you spent 16 years fighting in the bush? No Place for a Rebel follows the struggles of former child soldier Opono Opondo.
Like documentary, fiction is a very powerful tool to get us to think about the world, to explore the grey zones, the struggles and the other perspective. Because fiction can sometimes be more real than reality itself. The four Camera Justitia fiction films incisively uncover the impact of law and legal systems on the daily lives of individuals all over the world.
In The Verdict, the audience decides on the fate of an air force pilot who saved but also ended many lives by shooting down a hijacked passenger aircraft that was heading towards a packed stadium. Are his action morally justifiable? And legally? After the film, we ask the audience to vote: guilty or not guilty? That yesterday's decisions affect today's struggles is also experienced by prison guard Aiman who becomes the Apprentice of a death penalty executioner. In A Good Wife, Serbian housewife Milena is haunted by the ghosts of the past too, when she discovers a dark secret that disrupts here peaceful family life. Finally, the brave defense of Nelson Mandela in the historical drama Bram Fischer provides food for thought about resistance, sacrifice and just, but also unjust law.
Nine days, over seventy films, six talk shows, Masterclasses by Judge Julia Sebutinde (International Court of Justice) and Anna Neistat (Amnesty International), numerous Q&As with directors, experts, lawyers and other international guests… LET'S MEET at the Movies that Matter festival 2017.
https://creatingrights.com/wp-content/uploads/2017/05/movies-that-matter.jpg
349
620
Creating Rights
https://creatingrights.com/wp-content/uploads/2023/03/Fichier-4-300x129.png
Creating Rights
2017-03-20 22:32:52
2017-05-24 09:43:43
CAMERA JUSTITIA: Law and Justice at the Movies that Matter Festival – The Hague