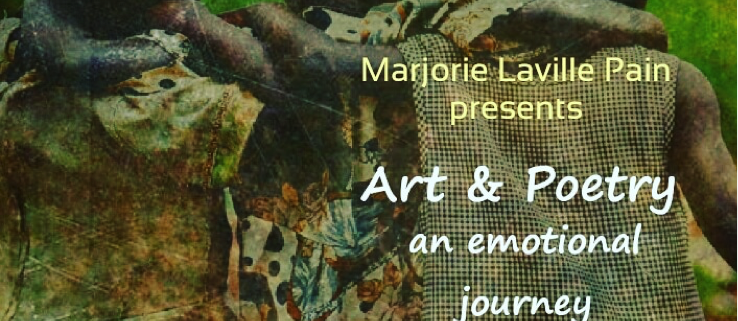 Last week I attended the launch of an Art and Poetry Exhibition on Gender Based Violence in Inspire Gallery, in Dublin City Centre. This exhibition was developed to coincide with the International Day for the Elimination of Violence against Women (25th November) and more generally the 16 Days of Activism Against Gender Based Violence. The exhibition, a mix of the art work of Marjorie Laville Pain and the poetry of the staff of Trócaire, a humanitarian and development NGO headquartered in Ireland, explores the issue of gender based violence in a way that is subtle in certain ways, yet incredibly striking in its impact.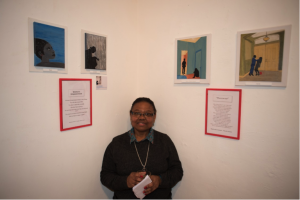 The art work is painted by Trócaire staff member Marjorie Laville Pain, and represents the different elements and dynamics of GBV in a way that encourages interaction and debate, sparking conversations and further exploration of GBV in all its forms, and with all its wide-ranging consequences. All the poems are written by Trócaire staff, and represent both the vulnerabilities and capacities of GBV survivors, again in a way that is easy to interact with.
The exhibition overall illustrates not only the fear, control, and pain associated with gender based violence, but also, and crucially, the strength, resilience, and agency of survivors, both visually and through the effective juxtaposition of poetry, to the strength and resilience of the many women and girls directly impacted by GBV and their families and friends.
The exhibition continues until Human Rights Day on 10th December 2018, and is open to the public daily.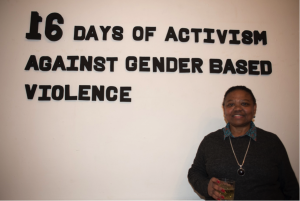 In addition to the artworks and the poetry, three powerful documentary animations were screened as part of the event. These animations created by Yangon Film School, in collaboration with Trócaire's local partner Gender Equality Network (GEN), are based on separate testimonies from survivors of gender-based violence (GBV) in Myanmar. A group of students from across Myanmar were trained by Lisa Crafts, an award-winning filmmaker, animator and educator specialising in docuanimation and Paromita Vohra, an award-winning filmmaker, writer and gender activist from India.The 'docuanimations' were created with the support from the Heinrich Boell Foundation and SIDA.
Part of the process was to explore the nuances of gender based violence – its root causes, the emotional impact on survivors, and the way in which the structural, cultural and psychological elements of the phenomenon are interwoven. The 'docuanimations' then developed, aim to bring these themes to a wider audience using documentary narrative approaches using real testimony from survivors.
Ethical representation of GBV can be very challenging, and this innovative mix of painting, poetry, and 'docuanimation' is simultaneously striking and inspiring, and achieves communication of messages around GBV in a respectful and safe way.
https://creatingrights.com/wp-content/uploads/2018/12/Andrea-GBV-image-1.png
628
738
Creating Rights
https://creatingrights.com/wp-content/uploads/2018/11/CREATING-RIGHTS-bground-white-red-logo-1030x679.png
Creating Rights
2018-12-07 09:30:15
2018-12-06 22:21:46
Expressing the Complexity of Gender Based Violence through Art and Poetry – An Emotional Journey