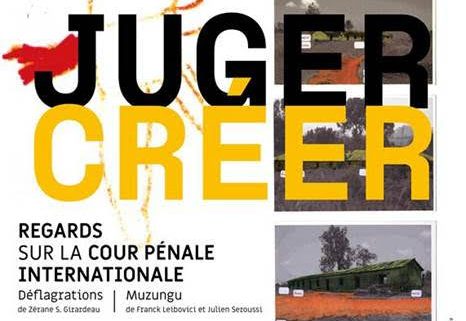 See below for English
Exposition
« Juger/Créer. Regards sur la Cour pénale internationale »
Du lundi 26 novembre jusqu'au vendredi 14 décembre 2018.
Entrée libre du lundi au samedi, de 14H à 19H.
Le ministère de la Justice, le ministère de l'Europe et des Affaires étrangères, l'Institut des hautes études sur la Justice (voir ici la page de présentation de l'évènement), l'École nationale de la magistrature, la Cité internationale des arts, Creating Rights, la Ville de Paris, des artistes et d'autres partenaires organisent une exposition grand public ainsi que des tables rondes, à l'occasion des 20 ans de la création de la Cour pénale internationale par le Statut de Rome.
Célébrer ce moment historique permet de rappeler que le crime de génocide, les crimes contre l'humanité, les crimes de guerre et le crime d'agression, portent atteinte à notre humanité et qu'il est fondamental de soutenir l'action de la Cour pénale internationale.
L'exposition du lundi 26 novembre au vendredi 14 décembre présente une approche originale et transversale de la Cour pénale internationale en mêlant différentes disciplines : l'histoire, le droit, la sociologie et l'art. Un parcours conçu autour de différents espaces permet au visiteur d'entrer progressivement au cœur de la Cour. De la présentation de cette juridiction internationale, à l'immersion dans un procès, en passant par le regard des victimes sur les crimes qu'elles ont subis, les organisateurs et les artistes ont souhaité à la fois rendre hommage à cette institution et permettre l'ouverture d'un dialogue et d'une réflexion sur son fonctionnement, ses actions, ses ambitions et son avenir.
L'exposition (voir la plaquette) présente les installations Déflagrations par la commissaire d'exposition Zérane S. Girardeau, en collaboration avec Creating Rights, et Muzungu, par Franck Leibovici et Julien Seroussi.
Zérane S. Girardeau et Creating Rights proposent une partie d'un corpus de dessins d'enfants victimes de guerres qui se sont déroulées ou se déroulent dans des pays comme la République centrafricaine, la République démocratique du Congo, l'Ouganda, le Soudan mais aussi au Rwanda, en Syrie et en Birmanie. Des extraits de paroles d'enfants, écrites, filmées, complètent le dispositif, ponctué par une intervention de l'artiste Sonia Wieder-Atherton, et un texte de l'écrivain Erri de Luca). Ces dessins font partie du projet Déflagrations mené par Zérane S. Girardeau, "une traversée des temps et des territoires au milieu de dessins réalisés par des enfants témoins, victimes, parfois acteurs des guerres, conflits et crimes de masse de 1914 à aujourd'hui".
La table ronde du vendredi 30 novembre (17h30-30h30) est dédiée à la confrontation des points de vue entre juges, artistes, sociologues et historiens notamment sur l'attaque et l'enrôlement de mineurs dans un village en Ituri, en République démocratique du Congo. Que retiennent les artistes et les juges d'un tel événement? Pourquoi et comment les chercheurs en sciences sociales s'intéressent-ils et s'emparent-ils de la justice pénale internationale? Comment l'art, la sociologie, l'anthropologie et le droit peuvent-ils interagir ? Etre utiles l'un à l'autre ? Une œuvre d'art peut-elle servir d'élément de preuve ?
Autant de questions qui pourront être posées lors de cette table ronde.
La journée du vendredi 14 décembre (10h-18h) propose une série de débats sur la Cour pénale internationale avec de nombreuses personnalités de haut-niveau de la Cour, du monde judiciaire, de la société civile et du milieu universitaire. Cette journée sera clôturée par Nicole Belloubet, garde des Sceaux, ministre de la Justice.
Les intervenants discuteront au cours de quatre tables rondes :
10H – 11H15 « Les origines de la justice pénale internationale. »
11H30 – 13H « La négociation du Statut de Rome. »
14H – 15H30 « La Cour pénale internationale aujourd'hui. »
15H45 – 17H45 « Les défis de la Cour pénale internationale. »
—————————————————————————
The French Ministry of Foreign Affairs, the Ministry of Justice, the Institut des Hautes Etudes Judiciaires – IHEJ, Creating Rights, La Cité Internationale des Arts, L'Ecole Normale de la Magistrature, la Ville de Paris, artists and practitioners, organise an exhibition and two roundtables open to the public to celebrate the 20 years of the Rome Statute of the International Criminal Court.
The Exhibition
"Judge/Create – Insights on the international Criminal Court" (open Monday-Saturday, 2pm-7pm)
The exhibition will take place from Monday 26 November until Friday 14 December 2018 at the Cité Internationale des Arts in Paris. It will present different approaches to the work of the International Criminal Court : history, sociology, law, and art. The audience will access the core of the Court's work through several spaces dedicated to a presentation of the institution, an immersion into one of the trials, and the experience of victims and actors of the conflicts.
With this exhibition, the organisers and the artists wish to not only pay homage to the work of the international institution, but also open a reflexion and a discussion on its functioning, its goals, and its future.
The exhibition (see the brochure here in French) features two art installations: Déflagrations, by Zérane S. Girardeau, in collaboration with Creating Rights, and Muzungu, by Franck Leibovici and Julien Seroussi.
Zérane S. Girardeau and Creating Rights present a portion of a collection of drawings by children, actors or victims of wars that took place in countries such as the Central African Republic, the Democratic Republic of the Congo, Uganda, Sudan, as well as Rwanda, Syria, and Myanmar. Extracts from words by the children themselves will feature next to the drawings, as well as interventions by artists such as Wieder-Atherton and Erri de Luca and by sociologists and historians. These drawings are part of the project Déflagrations coordinated by Zérane S. Girardeau.
The Roundtables
"A new perception of international criminal justice. A discussion between judges, artists, academic and the audience"
Friday 30 November 2018, 5.30-8.30pm.
"The International Criminal Court: from the start to the future" 
Friday 14 December 2018, 10am-6pm.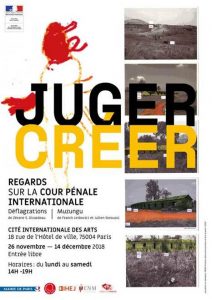 https://creatingrights.com/wp-content/uploads/2018/11/affiche-.jpg
659
466
Creating Rights
https://creatingrights.com/wp-content/uploads/2023/03/Fichier-4-300x129.png
Creating Rights
2018-11-04 23:30:02
2018-11-15 18:05:03
Celebrations of the 20 years of the Rome Statute of the International Criminal Court in Paris