By Nicola Popović
I meet Kim in one of my favorite spots, a small, vivid Italian café in Berlin-Neukölln. We first met when she was the focal point for women, peace and security issues with the US State Department here in Berlin, almost a decade ago. She's now gone back to her passion, writing, which includes award-winning stage plays and animated shorts that have gone to over 22 festivals internationally.
We quickly find ourselves in the middle of a conversation about creative writing, gender roles and social justice. Her current projects bring her not only to Germany but around the globe. She's only passing through Berlin on her way to the Melbourne International Animation Festival, where she'll show her newest animated short, "Coming Full Circle", to an international audience.
"'Coming Full Circle' is based on my play, 'Hypocrites & Strippers'. It's a comedy about selling sex and selling out. A big chunk of the piece is about workers' rights. In the strip clubs, the dancers work as independent contractors. So, the clubs don't have to pay health insurance or provide other benefits, and these women don't have a union to stand up for them.
I was living in L.A. and working as a production assistant when I wrote the play. L.A. was a place where going to a strip club was nothing out of the norm—gay, straight, men, and women. It didn't matter. Strip clubs were just another place to party. Paradoxically, that didn't mean people actually respected strippers, and the same could be said about production assistants. That parallel struck a chord in me and became the source for a lot of the humor in 'Hypocrites & Strippers'."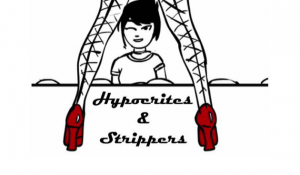 The images of the show are funny and well executed. The short clip you can find on YouTube or Vimeo makes the viewer want to watch more. The humor is a bit dark but hits a nerve of critical reflection as well.
"I try to make work that exists on different levels. So, if you just want to come for the entertainment value, great. If you want to dig a little deeper, that's great too. Ideally it's an opportunity to see yourself, your shared humanity, in the characters on stage and an invitation to reflect. Exploring the play through animation opens up a whole other set of possibilities.
 I think a lot of theaters provide a space for activism. Even Broadway tries to provide that space. But the bigger problem with theater in the United States, and also outside the U.S., is that women are not getting their work on stage. In an average year, only about 20% of the plays produced are written by women."
But Hypocrites & Strippers is not her only play. Kim has worked on various projects in a variety of formats. For her previous play, America, she has already received the Kennedy Center's Meritorious Achievement Award and the Audience Award at the Downtown Urban Theater Festival in New York.

"America is a dance piece about stereotyping in the U.S. Some people refer to it as a choreopoem because the text is poetic. It presents the characters in a very stereotypical way then deconstructs them. The characters are sort of identity bundles, and the idea is for the movement, music and visuals to explore identity in the same way that the text does.
Kim explains how she would like to combine America with an installation similar to her photo exhibition World Watching.
 "You could put the exhibition at the entrance to the theater so people can pass through it on their way in to see the show and again on their way out. It would include portraits of people with potentially perception-shifting bits of information next to their image. For example, my friend Oumaya is Tunisian and wears a hijab. So, you could have a photo of her, and next to it, it would say: Oumaya, Tunisia, PhD University of Barcelona, Spanish Professor, Metallica Fan. A viewer who's never been to Tunisia, can't speak Spanish and doesn't know anything about Islam but is a Metallica fan now has a connection to Oumaya where before she may have just seemed completely unrelatable. The idea is to connect people through their similarities in order to transcend their differences.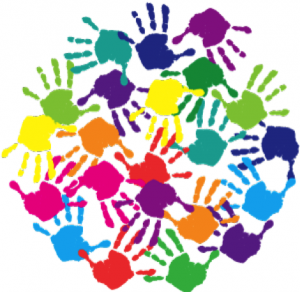 Kim's project Let´s Be One Hand also addresses stereotypes and identity.
"In the beginning it was specifically about connecting Muslims and non-Muslims, but I realized in a strange way that sort of stigmatized Muslims. So, it evolved into a piece about identity and labels in general. Again, there's this idea of connecting people through commonalities. When we see ourselves in someone who previously seemed totally foreign or outside our own experiences, it removes that sense of otherness. I refer to it as building your empathy muscle.
 I am very involved in social justice, which is reflected in my work. Part of the process is figuring out which is the best medium to tell which story. I feel fortunate to have had the opportunity to work in TV, film, theater, animation, dance, poetry—you name it—and look forward to continuing to explore the possibilities.
To learn more about Kim and her work, visit www.kimyaged.com.
https://creatingrights.com/wp-content/uploads/2017/09/Kim-Yaged.png
490
490
Creating Rights
https://creatingrights.com/wp-content/uploads/2023/03/Fichier-4-300x129.png
Creating Rights
2017-09-04 09:59:09
2017-09-04 09:59:09
Kim Yaged – Building your empathy muscle