Creating Rights was asked by the people at Azelo to help them curate an art exhibition for their online platform with the theme of human rights. Azelo is a tech startup based in The Hague that uses blockchain technology to support digital art and artists. They secure the artwork in the blockchain allowing the artist greater control over the licensing and use of their work. 
We turned to our network of artists and selected Amir Čengić's photography series "Refugees, Migrants, and Humans" to feature. With this series we highlight the importance of the human pain of individuals with a migration history and their difficult journey of establishing a normal life. Even though the refugee crisis has faded from the media's spotlight, we believe that we should still act upon our human values and try as best we can to understand and help the situation. 
This collaboration with Azelo aligns with Creating Rights' mission to support artists by giving them visibility, as explained here on our website. We think this was an exciting opportunity to explore because it blended human rights awareness with technology that supports artists' rights while looking towards tomorrow.
The exhibition went live on 13 January, 2019 and was available for viewing until 15 March.  The exhibit drew over 1200 viewers, exceeding the goal of 500 by more than double. It reached a worldwide audience, with most viewers (24%) coming from the US, followed by The Netherlands, UK, Germany, and Canada rounding out the top 5. Most viewers were directed to the site via social media, growing the networks of all the partners involved.
We want to thank our partners at Azelo and Amir Čengić for allowing us to contribute to such a significant exhibition.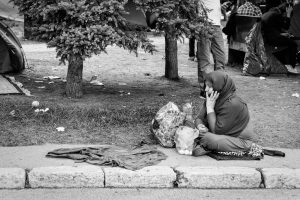 Boy                                                                  Woman
©amircengic
Featured Image: Waiting in the line
https://creatingrights.com/wp-content/uploads/2019/07/Waiting-in-the-Line-Amir-Cengic.jpg
4000
6000
Creating Rights
https://creatingrights.com/wp-content/uploads/2023/03/Fichier-4-300x129.png
Creating Rights
2019-07-22 00:16:36
2019-07-22 00:17:04
Digital exhibition on Azelo featuring Amir Čengić